Your Daily Funding Round-Up for August 26 '15 (Geektime (Israel))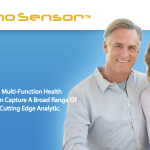 It's all US right now, with healthtech, the Internet of Things and free college courses grabbing big money this week.
Star Trek Tricorder that much closer as DynoSense nabs $9 million
Healthtech company Dynosense brought in $9.4 million in Series A that will help the company meet US regulations and to bring its "multi-function health scanner" Dyno to market.
In something that sounds like the Star Trek medical scanners that can detect broken bones and infections in seconds, this machine will analyze 33 separate health metrics in a minute according to a press release. Like other medtech, the device can generate reports and send them on to doctors for further analysis.
"Nok Nok?" "Who's there?" "$16 million." "Why, come in."
Authentication company Nok Nok Labs scored $16.25 million in Series C from a number of investors from the Far East. Funders included the South Korean DaouKiwoom Group (DKG), Japanese venture capital firm DOCOMO and Chinese VC Thundersoft. Ik-Rae Kim, founder of DKG who will join the Nok Nok board.
Other infusions came from previous investors DCM Ventures, Lenovo Group, ONSET Ventures and Raven Ventures
The funds will reportedly go toward expansion in the Asia Pacific region, expand sales and grow its support infrastructure.
Free Courses Get a Boost with $49 million for Coursera
American company Coursera raised $49.5 million in Series C for its growing online platform for free university courses. The company partners with colleges and universities across the US.
New investor and strategic partner Times Internet will provide a major media conduit for the edtech company to reach more Indians.
Plans also include reaching more partnership agreements with universities abroad, designing courses for low-income Indians, and writing new courses with corporate partners from different industries.
Read more on the story here.
Intel helps pump $20 million into BlueData
Big data startup BlueData scored major partnership dollars this week with Intel as it completed a $20 million funding round.
The company's software EPIC helps client systems to run Hadoop and Spark in a "virtualized environment," simulating a "cloud-like experience" for big data projects. The press release further describes their software as enabling users to "spin up virtual Hadoop or Spark clusters within minutes" to access analytics and data.
Investors also included Amplify Partners, Atlantic Bridge and Ignition Partners. Intel will also aid in engineering and marketing for BlueData.
The company is based in Mountain View, California and was founded in 2012 by CEO Kumar Sreekanti and Tom Phelan.
If you can spare 5 minutes, Spare5's new $10M round might give you some extra cash
Spare5, whose app lets casual users complete small tasks for app clients for small fees, won $10 million in Series A from the Foundry Group, Madrona Venture Group and New Enterprise Associates (NEA).
The app, similar to Amazon's Mechanical Turk, gives users the opportunity to earn small amounts of money fast by completing seemingly mundane tasks like verifying listed check-in times for hotels or match products online. Each task pays a few cents, but avid users have the opportunity collect several dollars a week.
The idea is that it is something people who are bored on their phones or waiting between bus rides could use to add value for their down time. The financial incentive also serves as a motivator.
The new capital will go toward expanding the company's small staff of 13, according to CEO Matt Bencke. Current corporate clients include Getty Images and Groupon.
Link Labs bolsters its Internet of Things potential with $5.7 million
Maryland-based communications company Link Labs, which engineers networks on low power for IoT systems, brought in $5.7 million in Series A according to a Tuesday press release. Key investors in this round included TCP Venture Capital, Blu Venture Investors and the Maryland Venture Fund.
Link Labs markets a hardware system called Symphony Link, which allows for wider-range wireless communication. The company looks to better integrate its technology with newer appliances, focusing in on the Internet of Things. The company works on building management, asset tracking, and smart agriculture among other industries according to a press release. Their devices are adaptable to networks in North America and Europe.
The company was founded by CEO Brian Ray in 2013. The company also announced a distribution agreement with Future Electronics earlier this week.
Photo Credit: Dynosene website